First of all, just let me say Lorenzo is a GREAT PAINTER for sure, a real professional and a friendly guy to deal with.
I entrusted him with a painting commission for a dozen of monsters from Rising Sun boardgame and its Monster pack expansion.
He did an excellent job, I could not expect anything better.
The whole creative process was fun and enriching. Searching for inspiration sources and then discussing color schemes and details for every model. He listened to my ideas, advised me (always wisely) and provided a personal artistic vision giving a twist to every choice made before painting the next piece.
He never tried to convince me about his suggestion, but he was always right. And looking at the result, I'm really glad I listened to his good advice. And more, my budget was unfortunately not limitless, but he did the job with great passion, often trying to push his painting the extra mile.
I waited for him sending work in progress and final pics for every piece, one after another, like a child on Christmas eve, looking with a mix of joy and surprise at the wonder of grey plastic figures coming alive thanks to his brushes. I found every monster has its own "personality", but he gave the whole group a deep harmony. You can see the hand of a true Maestro there.
I'm really really grateful for the wonderful job you did!
Thanks again!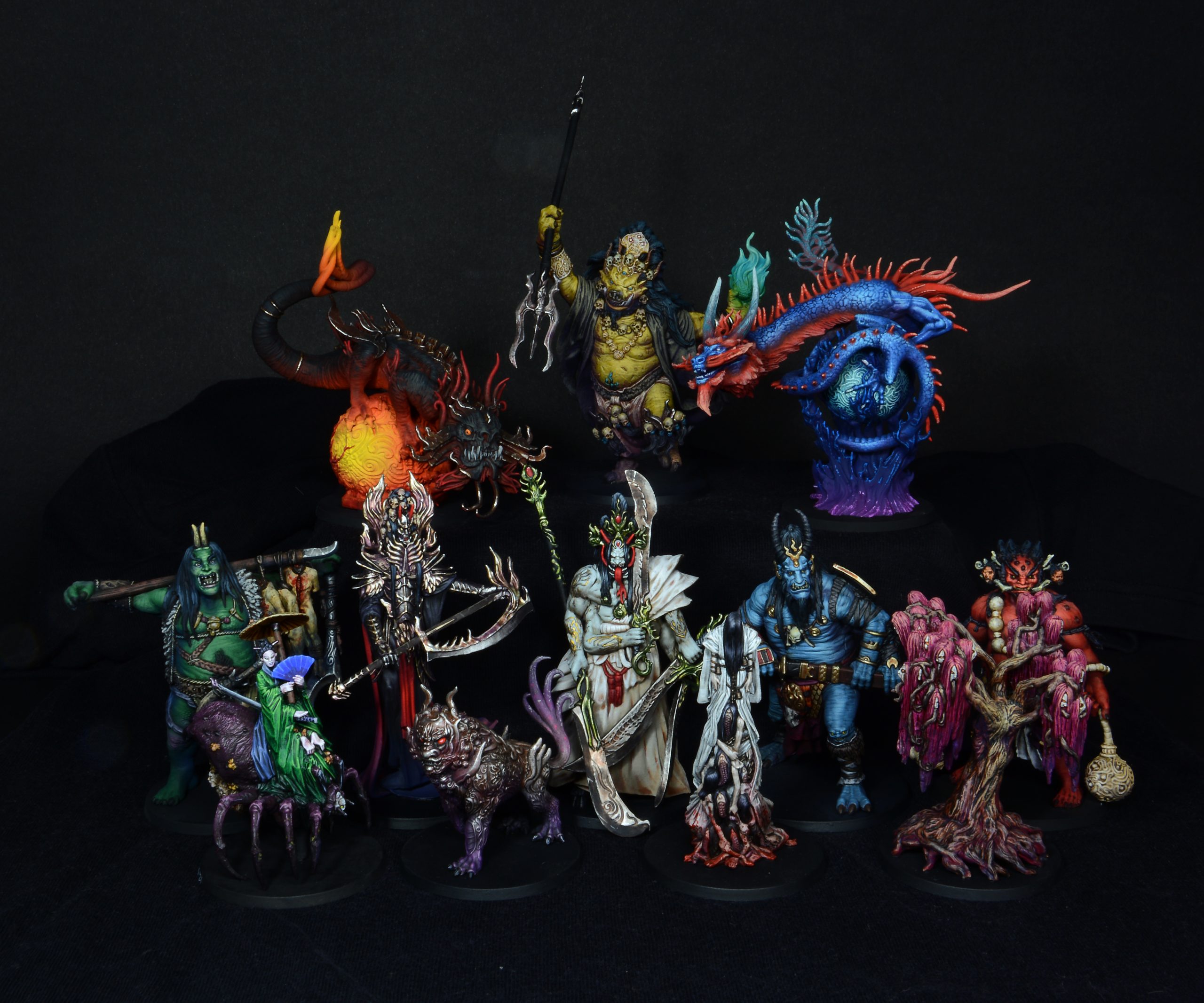 Seriously one of my favorite painters to work with.
Incredibly friendly and great with communication. Has done some really awesome 40k projects for me usually some top tier quality work with some HQ choices.
The latest project was 10 howling banshees each uniquely painted and I gave him complete artistic freedom to paint them however he saw fit. Needless to say I was incredibly happy with how they turned out and are easily some of my favorite models I now own.
Can't recommend this painter enough.
Absolutely recommended.
Very helpful, punctual and excellent result!
I will certainly hire him again for other commissions.
A very talented artist, he did an excellent job: he was able to completely fulfill my expectations and requirements on various Kingdom Death models in my opinion not easy to paint..
Cant' wait to give him more commissions!
Strongly recommended!
Lorenzo has painted several commissions for me now, and each time he has been a pleasure to work with. I can't imagine using anyone else, and intend to make use of his services again soon.
His communication, work ethic, creativity, and technical skills are all extremely impressive.
I had never commissioned anything before when I first approached him, but he was open, honest, and explained his entire process in detail to make me comfortable. He set update schedules which he kept to.
Incredibile artist! The miniatures look so real, the lights and the shadows are simply fantastic!I really like the details and the maniacal precision of the work!
I love the colors and the shades Lorenzo chose according to my requirements, he really reply the vision I had of every miniature!
I certainly recommend Lorenzo for his skills and passion in his job!!
Very happy with what Lorenzo painted up for me! – Very talented artist! – All was super professional, from communication to shipping!
I can warmly recommend him, as his level is premium and prices are more then fair! I'll personally will be using him in the future again!
+1 For sure!
Another shoutout from a very satisfied customer.
I gave Lorenzo some Kingdom Death models to paint at the advanced level and was really thrilled at the results.
Great communication all along the way, I gave him a lot of liberty with only a few guidelines for how the work should be done, and I'll definitely get back to him for more work.
10/10 will commission again.
This is a late review for a commission that Lorenzo had done for me earlier this year: the Dragon King from Kingdom Death: Monster.
I had asked him to take some inspiration from one of my all-time favorite video games: Final Fantasy X. There, the summon "Bahamut" has a striking pose that I thought could translate well with KDM's iconic dragon.
Simply put, Lorenzo delivered in spades. I am so impressed by his attention to detail and his perseverance in making sure that the color of the model matched the inspiration.
Lorenzo is someone whom I trust to paint to his client's satisfaction. His updates were timely, and although this particular commission took him a little longer than expected (which I totally forgive, given the global situation), the end product was more than I expected. Really, I am a little intimidated to even use it for the game, given how incredible it looks.
I recommend Lorenzo's painting commissions. I'm a complete novice at painting, but I am so happy that Lorenzo is available to paint minis in a way that I imagine them to be.
As a person who barely has time to play board games in my free time, let alone sit down to properly paint models, I have always looked to professional painters for those centerpiece figures.
Having worked with multiple painters in the past, I can safely say that Lorenzo is as professional as they come. His spectacular work speaks for itself!
We were in constant communication throughout the whole process, very receptive to the ideas I had, and really got involved in helping to create a unique and amazing color scheme. Models were wrapped with care and everything came in one piece.
I definitely recommend him to anyone looking for quality work and professional service.
I've used a great number of commission artists and normally, I don't write reviews. Unfortunately, there's so many unreliable painters out there that I'm very cautious about who I entrust my commissions to.
With that being said, having found Lorenzo and done two commissions for Malifaux minis (Guild and Ten Thunders) with him, I couldn't be more thrilled with the quality and timeliness of his work and I have no reservations about recommending him.
HIs price/quality ratio is AMAZING – you will be getting the highest quality paint jobs for the best price around. I've never had miniatures painted so beautifully, and this was his advanced level, so I can only imagine what his higher standards look like. He communicates regularly, sends update pictures so you can see the models come to life, but even more importantly, he listens! I usually have a vision of how I want the models to look and I will communicate that in detail. Lorenzo took the time to listen to everything I wanted and made sure that I was completely satisfied with the job.
Sending off 100's of dollars of miniatures to someone can be a scary prospect, but I can say with confidence that if you are looking for an amazing artist to bring your miniatures to life, Lorenzo is the one you want!
Lorenzo was great to work with and did an excellent job for the Tyranid tutorial i commissioned. Highly recommended!
I shopped around a few people to work on my Ulthwe Eldar army. I was looking for a painter that isn't afraid of a long term commitment to an entire army (well, almost). I needed someone who displayed consistent quality across multiple units and various color schemes.
I am VERY glad that I chose Lorenzo. He is easy to work with, communication was excellent, and the quality, well, the quality is just downright fantastic.
Lorenzo painted my KDM commission expertly! Very open to feedback and taking into account my suggestions for color patterns. Will definitely commission again.
Commissioned a NMM Roboute Guilliman that came out great, better then how I even envisioned it.
Not only is he a great artist but also an all around nice guy kept in contact with me the whole way and I could not be happier with the experience. If you are considering getting a piece commissioned I would really advise you to reach out to him.
I for sure will be using him in the future.
Very talented artist!
Lorenzo painted some Warhammer Underworlds models and I was very impressed with his work!
Most of all, Lorenzo is a great guy! Highly recommended
Lorenzo has done a number of Warhammer Underworlds commissions for me, including the Beastgrave core set and the Wurmspat, and has been superb every time.
His pricing is very reasonable, his communication is excellent, the models always reach you quickly and safely, and he always does an amazing paintjob whether you have a set colour scheme in mind or decide to take advantage of his eye for art.
Never had a complaint and can't wait to commission Lorenzo again!
Lorenzo did an incredible paintjob on the miniatures (so good that the "savior 40" of this commission was also in the last kingdom death newsletter-spotlight).
The communication was great the whole time. I had some direction in mind what I would like to see on the miniatures and he managed to achieve these with ease.
In addition, he gave steady updates on every miniature with "wip" pictures and the next steps.
I can highly recommend him if you are looking for someone with incredible painting skill and good project communication.
Ohh and I have already placed my next commission at him.
Just wanted to drop a note in here and brag on Lorenzo's work!
I sent him a Sunstalker as well as 4 survivors in Sunstalker armory and the product that he sent back is absolutely stunning.From what I understand he offers 4 different tiers of quality of work. Those 5 are painted at the starting "standard" tier so I can't even imagine how amazing they would be at the highest "box art" tier.
Thanks so much for your work, Lorenzo!!
Lorenzo was a pleasure to work with. I entrusted him to paint several of my KDM collection, and he did a stellar job.
Great communication, very knowledgeable, and fantastic skill no matter what level of painting you get! He worked well both when i had a set image in mind for a piece, and when he had a bit more free reign of being creative.
My only regret is that he doesnt live closer to save on shipping 😉
Where to begin!
Lorenzo was fantastic to work with! I had such a pleasant experience throughout the entire process. Great communication, very knowledgeable, impeccable skill!
I loved working with him so much that I am ready to send him more stuff! Thank you, Lorenzo, for all the work you did. I am very grateful.
I had the most incredible luck to know Lorenzo when I received my first wave of miniatures from Kingdom Death's kickstarter.
I found a very humble guy, but don't be fooled: he is a true grandmaster of his Art.
I had this specific idea to have my miniatures painted with great character, with hints of bright colors but still preserving the darker tone of the game.
And he did just that, so perfectly, that I was shocked.
I showed the miniatures to all my nerd friends and people from Warhammer shops, and I will just say that everybody used "masterwork" to describe the job.
Lorenzo was also very forthcoming during all the process with suggestions, pictures and constant communication. I can't wait to send him my second and third KD's waves.
If you are fond of your miniatures and want them to be amazingly painted: do yourself a favor, just ask Lorenzo.